Introducing Troop Cryotherapy
It's like a penny has dropped, Cryojuveante has been offering what I'd now like to officially name the 'Troop Cryo' sessions since we launched back in 2017, however, it's never been made official. We are and have collaborated with many of the best athletes and clubs in and around Kent, and in some cases further afield because cryotherapy is just the best way to recover, rejuvenate and revitalise.
So are you part of a GROUP, TEAM, SQUAD or CLUB? So many of our regular clients compete in or coach various sports and have been calling out for a group-based service – we've heard you and it is here! Cue… Troop Cryo where you can take on the force of the freeze in our whole body cryotherapy chamber with your troop (4-8 people).
Why? Because coming together with your squad keeps you motivated, committed, and accountable for your training and recovery but most of all – it's really fun! From stretching to handstands, from singing to dancing, from making Tik Toks and even reading in the chamber – we've seen it all!

Who is Troop Cryo for?
Essentially, this is perfect for anybody in a competitive sport. Maybe you're not looking for a year-round service but you need that super-charged blitz and boost power to give you the edge before an important competition or event. To give you an idea:
Boxers
Runners and running clubs
Athletic Clubs
Football Clubs
Netball Clubs
Hockey Clubs
Rugby Clubs
Swimming Clubs
Cricket Clubs
Basketball Clubs
Tennis Clubs
Winter Sports
Body Builders and weight-lifting
…………..or maybe you are a troop of work colleagues and looking for your next team building event, wedding party, reunion, or a workout group?
What is Whole-body Cryotherapy
Whole-body Cryotherapy is an innovative treatment combined with cutting-edge technology to speed up recovery and re-energize the body. Treatments use cold air and are quick, painless, and non-invasive. They expose the body to specifically controlled temperatures which can go as low as -85°C to -90°C using our electric chamber.
Exposure to extreme cold has been proven to increase the body's blood flow to the muscles and the impact of the treatment is instant and this acceleration in healing means that physical performance improves with a return to activity far quicker than might overwise have been expected.
Sessions last between 3-5 minutes and have long-lasting benefits.
The Benefits of Cryotherapy
The intensity of training before a competition, match, or event means that competitors/players are at high risk of injury, particularly muscle and ligament strains and contusions, often with inadequate recovery time. Not to mention the huge amount of mental and emotional pressure, which certainly takes its toll. Ideal for pre AND post-training, here's how cryotherapy could help:
Gives your body a chance to heal and prepare for the next training load
Decreases the risk of injury, overtraining & burnout
Essential for muscle growth by repairing tissue and replenishing glycogen (energy stores)
Better performance, endurance, agility & reaction time
Reduces muscle fatigue and soreness
Gives your body time to adapt to the 'stress' associated with exercise
Better quality of sleep (exercise produces energy-boosting hormones like cortisol and adrenaline but constant exercise overproduces these hormones giving you a hard time getting good quality sleep, which makes fatigue and exhaustion worse)
Reduces inflammation & swelling (linked to pain and discomfort)
Improves blood circulation
Decreases stress hormone
Mental clarity and improved mood
Increases energy levels
Boosts immune system
Other benefits of cryotherapy that isn't necessarily a dealbreaker for our sporting heroes but still pretty good (we'll call these the Brucie Bonus'!)
Brightens and tones skin
Boost metabolism
Each session burns approx. 500-800 calories
Reduce the appearance of cellulite
Activates collagen production in the skin
Can improve symptoms of specific conditions such as; auto-immune disorders, allergy relief, migraines, anxiety and depression, insomnia, bruising, post-surgery rehabilitation, and many more
Troop Cryotherapy Package or Membership – which one is right for you?
A single session in our whole-body cryotherapy chamber is £50 as a one-off, so whether you choose to take out a monthly membership or a Troop Cryo package – you are guaranteed to be making a saving! So, when trying to decide which is right for you, ultimately, it comes down to your goal and what you're trying to achieve.
Troop Cryo Package
You could be training in a team for a one-off event like a marathon or tough mudder or perhaps your sport is seasonal, so you need to go full-throttle for a certain amount of time but then you have time 'off'. The 'Troop Cryop' option is so simple, there is no tie-in with this option, simply call and book in a couple of days before. Just make sure you are a party of over 4 people minimum and a maximum of 8 people. ** and it's not just for the pro's, this service is for any group (as long as you are over eighteen years)
Membership Options
Our memberships are monthly and start from as little as £29 a month. With 10 different options, memberships are available for different goals (beauty, slimming, wellness, recovery, and club level). In addition to your membership, you'll receive exclusive benefits, such as special member offers, guest passes, discounts on our products & services (depending on membership), and access to our partners' discounts
More about our memberships: click here
So – what's the investment?
Whole-body cryotherapy sessions as part of a Troop Package are £35 per head (4-8ppl), which offers a significant saving of £15 per session.
Other cryotherapy treatments that might interest you
As well as our cryotherapy chamber, we offer other complementary treatments for a 360 approach to wellness –
Localised Cryotherapy
This is a targeted cold therapy using a handheld device. Quick, easy, and pain-free – the treatment takes only 10 minutes to administer. Concentrating on a specific area of pain, local cryo has an analgesic effect which leads to a reduction in pain whilst also reducing inflammation and supporting recovery from sports and lifestyle injuries and post-op rehabilitation.
More about Cryo Local: click here
Sports Deep Tissue Massage
Relieves muscle tension & stiffness
Improves range of motion (ROM)
Increases flexibility
Decreases muscle spasms
Aids in healing from AND preventing injury
Speeds up recovery time
Enhances circulation
Leads to better sleep
Improves mental alertness
Better sense of wellbeing
Feels amazing!!
More about Sports Massage: click here
Vitamin Booster Injections & IV Therapy
Keeping energy and immunity up and looking after overall wellness is imperative because, quite frankly, when your body is lacking in something (minerals or vitamins) it just won't give you what you need. For this reason, it's pretty common to see athletes popping in for a top-up on this good stuff to keep them in tip-top condition, all season-long.
For more information about the range of vitamin booster shots: click here
For more information about the range of IV Drips available: click here
Combination Packages
Depending on your individual circumstance, you may find that you need to opt for a combination of treatments in order to reach your goal. To make it accessible and affordable, we have grouped our most popular treatments together in different packages.
Check out our Combination Packages: click here
How to book
Troop Packages must be booked in advance, either call the clinic on 01732 449411, email us at contact@cryojuvenate.com or drop us an inquiry on our contact page
Hear how Ebbsfleet United used Cryotherapy to bring their boys back into the Game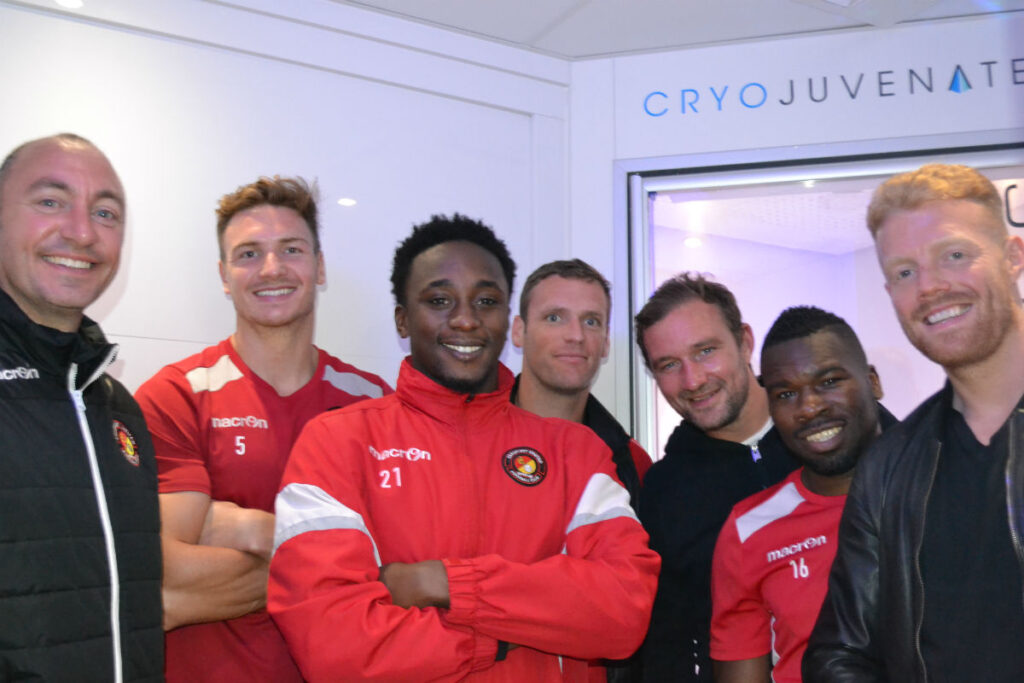 At the time, Fleet vice-chairman Peter Varney had been more than pleased with the pay-off from the treatments. "The players are regular users of the Cryojuvenate facilities," he said. "We've found the chamber has been very effective for addressing tiredness and aching limbs and the specialist equipment means we can target injuries. We've had good outcomes with players making a quicker return from injury than would normally be the case. I really can't speak highly enough of the professionalism of Ruth and her team."
Read the whole article here: THE CRYO GAME
and here: Cryotherapy helps fleet players back to fitness
Submitted by
Ruby Plenderleith in collaboration with Cryojuvenate