Build muscle and lose fat with EMSculpt in Sevenoaks Kent
Pricing

from £70

Duration

30 mins

Downtime

None

Frequency

2-3 months
Looking for an easy way to build muscle and lose fat?
EMS Medisculp (known also as EMSculpt Body Sculpting) could be the solution you've been looking for. No other technology has the capability to address both muscle and fat at the same time, in the same treatment. With results in as few as 4 sessions, no downtime and permanent results it's little wonder why our clients are turning to EMSculpt in Sevenoaks.
EMSculpt Body Sculpting (30 minutes)
What if we told you one of the key benefits of EMSculpt is that one 30-minute session is the equivalent of doing 20,000 crunches. Additionally, up to 19% of the surrounding fat is burned. You have read this right: the effect of exercise, without exercising.
EMSculpt Body Sculpting is a quick, comfortable and non-invasive treatment that can provide faster results than long, gruelling sessions at the gym. Perfect for those who are less motivated to work out.
The latest in body sculpting technology
Approved by the FDA and the first of its kind, this treatment is difficult to come by outside of London so we are pleased to be able to offer EMsculpt in Kent. This treatment (in central London) can be as costly as an eyewatering £3,000!!
Its full name is High-Intensity Focused Electromagnetic Fitness or FEMHO for short. The machine uses high-intensity focussed electromagnetic energy to activate muscle contractions, stimulating 100% of the muscle. To put that in perspective, when you do a push-up or a sit-up you only stimulate around 40% of the muscle.
Dr.Akhan M.D says "it uses electromagnetic energy to get the muscles to contract in the area you're treating. EMSculpt takes over that process to a much stronger extend than our bodies are able to".
What does it cost?
EMSculpt
(30 minutes)
Consultation: FREE
1x session: £99
1x session for members: £70
4x sessions (block): £349
6x sessions (block): £449
Combination packages
Weight Loss & Tighten: £479
4 week programme includes:
1x Cryo Lipo, 4x EMSculpt
Weight Loss & Tighten Plus: £579
4-6 week programme includes:
1x Cryo Lipo, 6x EMSculpt
Weight Loss & Tighten Intensive: £679
5-6 week programme includes:
1x Cryo Lipo, 8x EMSculpt
Our full pricelist can be found here. Don't forget to check out our special offers page too! Want to become a member? Find out about memberships here.
EMSCULPT BENEFITS
You could see your EMS results quickly
EMS is a safe treatment
No preparation before a treatment
No need for needles or anesthesia
No side effects or downtime
Permanent results
Reshapes your body
Strengthens & builds muscles
Improves muscle definition
Breaks down fat
Skin toning & firming
Works in many areas of the body, such as legs, bums, tums and arms
How OFTEN SHOULD YOU HAVE EMSCULPT?
The number of EMSculpt sessions required varies from person to person and depends on many factors, such as age, lifestyle and the amount of fat in the treatment area.
A course of 4x 30 minute sessions is recommended initially, with each session 3-4 days apart.
After 6-12 months, you may require a further session to maintain your results.
EMSCULPT TREATmEnt aReas
Abdomen
Hips (muffin tops)
Triceps (upper arm)
Thighs (inner or outer)
Calves
Lower back
Buttocks
In some cases, the chest area is suitable too (moobs)
EMSCULPT FOR THE PELVIC FLOOR
The pelvic floor is the group of muscles that supports your bladder, bowel and uterus. A weak pelvic floor can lead to incontinence in the bladder ad bowel as well as pain during sex, all of which can upset your quality of life.
It's easy to forget to exercise these muscles and certain things can cause them to change: aging, childbirth, menopause, constipation, prostate cancer surgery and an overactive bladder.
This targeted treatment works by inducing thousands of electromagnetic pulses to stimulate muscle contractions and strengthen those deep, hard-to-reach pelvic muscles.
It's pain-free and all you need to do is take a seat (we'll even make you a cuppa so you can relax!)
EMSculpt Pelvic Floor treatment is a 2-week programme (6 treatments).
For more detailed information, read our blog: "Tighten Your Pelvic Floor With EMS Mediculp."
EMSculpt Before and After
You don't need to take our word for it, these before and after photos speak for themselves – just use the slider..
To really supercharge your results, ask our therapists about combining this with other treatments.
Don't forget to check out our client reviews.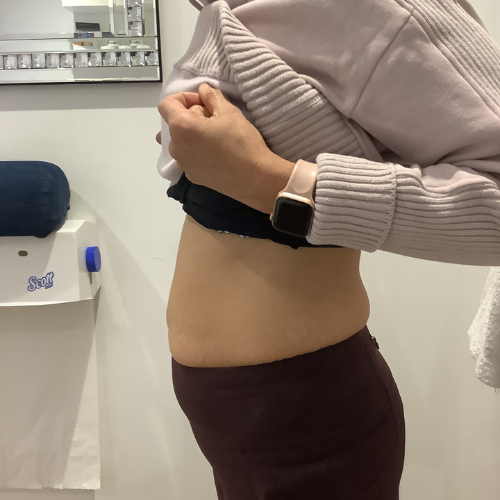 EMSculpt FAQs
Wondering about the science behind the technology or curious about how quickly you might see results? Here are some of the most frequently asked questions.
Don't forget we offer free of charge consultations where you can discuss the best course of treatment with one of our qualified therapists.
If you have a large amount of fat tissue, you may be interested in Cryolipolysis.
FREQUENTLY ASKED QUESTIONS
Fat Freezing Vs EMsculpt, what's the difference? Fat Freezing (Cryolipolysis, LipoFreeze, known also as Coolsculpting) and EMS Medisculp (known also as EMSculpt Body Sculpting) are two very...