The day I tried NADH+ IV Infusion Drip
I am the administering nurse at Cryojuvenate, my role is to manage and administer Intra Muscular Vitamin Injections (IM) and Intravenous Nutrition Therapy (IVNT) using products from IntraVita International Ltd (one of the leading suppliers of IVNT in the UK) at Cryojuvenate.
I am also an advanced Cryopen® treatment professional. I perform the procedure for the removal of skin lesions such as; skin tags, cherry angiomas, age spots, warts, and verruca in a fast, painless fashion without the need for injections. The treatment is the most innovative, technologically advanced instrument in cryosurgery that can permanently remove skin lesions and imperfections.
And then there's my day job, I am also an A&E nurse at Medway Hospital located in Gillingham, Kent. Balancing my time between Cryojuvenate and A&E is hectic, but I love both roles! One of the things I love about being part of the team is that I am able to develop my skills through frequent training. Recently, Ruth (the boss) and I spent a day at the IntraVita HQ to update our knowledge about the latest products and protocols.
It was a great day for me as rather than administering the IV, I was lucky enough to experience one of the combination IV Drips which included the infamous NADH (see more further down).
What is NADH
NADH is an extremely popular IV, loved by celebrities and health gurus worldwide. Nicotinamide Adenine Dinucleotide plus Hydrogen plays a role in generating energy in the body and is taken as a supplement to treat chronic fatigue syndrome. It is suggested that it can help restore memory, cognitive function and improve athletic performance. It can also help to stimulate brain function, improve mental clarity, alertness and concentration. Naturally, NAD is made in the body from niacin and a type of B vitamin, but after the age of 30, the levels slowly reduce, as they do with other vitamins. It is known to have the following benefits:
Enhanced neurological function | Restoration of muscle strength | Weight loss |Improved energy levels
*not to be confused with NAD. There are two forms of nicotinamide adenine dinucleotide which are not exactly the same thing, but they are chemically similar. learn more here
Did you know malnutrition affects every country in the world?
On the day, we were warmly welcomed by Vernon Otto, the CEO of IntraVita, and joined by another team of nurses from Chill Hull (another cryotherapy clinic). During the presentation, one of the highlighted topics of discussion was the widespread problem of malnutrition or micronutrient deficiency even in developed countries. The World Health Organization (WHO) published a paper about this in 2021, stating that one or more forms of malnutrition are affecting every country in the world, highlighting it as one of the greatest global health concerns [1]. Shocking revelation, of course, it initiated a deep discussion about how we can best advise our clients of the benefits of IV Therapies and Vitamins.
What causes micronutrient malnutrition
Fundamentally, vitamins, minerals, and amino acids are called micronutrients that act as building blocks for good health [2]. Micronutrients are crucial to the body's production of enzymes, hormones, and other substances that are essential for proper growth and development [3]. Deficiencies may impact several physiological body functions and can impair the function of the immune system [4]. More so, deficiency of essential nutrients leads to micronutrient malnutrition [2].
It is said that micronutrient malnutrition usually occurs when a diet lacks variety [5]. Therefore, malnutrition can harmfully affect the function of all body tissues that can predispose individuals to a variety of diseases [6]. Hence, their impact on a body's health is critical and deficiency in any of them can cause severe health conditions.
Prevention is better than cure
More recently, it has come to light that several micronutrients such as vitamins and minerals play a major role in boosting the immune system to protect against certain infections, inflammation, and possibly some cancers [7]. Strong evidence reveals that i.e. for the older the person, a high nutrient demand is required (not like when they were younger), so in theory, aging contributes to changes that can make the individual prone to deficiency of the important nutrients (calcium, vitamin D, vitamin C, vitamin B12, iron, magnesium and several others [8]).
As luck would have it, we can take actions to prevent these deficiencies. It goes with the saying "prevention is better than cure".
Why is IVNT the preferred method to deliver vitamins and minerals?
IVs are the preferred intake of vitamins as absorption is 100% via intravenous infusion, the vitamins and minerals bypass the gut and stomach enzymes by traveling directly through the bloodstream. Therefore, the effects are immediate and nothing is wasted.
To clarify: An IV Drip (or the infusion of vitamins, minerals, and amino acids) goes directly to the bloodstream allowing the nutrients to flood the body for optimum results [9]. This is done by inserting a cannula (a procedure where a small plastic tube is inserted in the vein to allow the administration of liquid substance directly into the bloodstream) through the vein. This procedure can also deliver large doses of fluids or nutrients that would not otherwise be tolerated with oral or intramuscular administration [9].
Consequently, this is the preferred method for intake of vitamins, minerals, or amino acids to bypass the gut or stomach enzymes by traveling directly to the body's cells [10]. Therefore, the effects are immediate and can give fast desired results.
A brief history of IVNT
IVNT all started in the 1960s when a physician from Baltimore USA named Dr.John Myers started treating people with medical conditions via intravenous vitamins and minerals. These conditions vary from acute asthma attacks, migraines, fatigue (including chronic fatigue syndrome) fibromyalgia, acute muscle spasm, upper respiratory tract infections, chronic sinusitis, seasonal allergic rhinitis, cardiovascular disease, depression, and other disorders. On top of this, He also treated healthy patients for non-clinical indications with his IV 'cocktails'. [9] [11]
IVNT was introduced to the UK during 2014/2015. Since April 2015 IntraVita International has trained over 400 clinicians including doctors, dentists, nurse prescribers, nurses, and prescribing pharmacists. Non-medicinal health-promoting indications include; immune system boosting, athletes & anti-fatigue support, energy boost, mood support, fat burning, detoxification, etc. [12]. Receiving IVNT has become increasingly popular, formerly used only by the rich and famous including celebrities striving to reduce tiredness or exhaustion. Many testimonial claims have surfaced through the internet of how IVNT strengthens their immune system and boosted their energy.
What's in the IVNT + NADH (Regenerative Formula)
I was very fortunate to have been given the opportunity to trial the latest combination of three different IntraVita IVNT products which included: *NADH, *Procaine, and *The Performance Booster (each one administered consecutively one after the other). These combination offerings are known (within IntraVita) as the Regenerative and Ultimate Regenerative Formulas.
NADH (Nicotinamide Adenine Dinucleotide + Hydration)

Naturally NAD is made in the body from niacin and a type of B vitamin [13]. This substance naturally occurs in our body that plays a role in the chemical process to help improves cognitive function and energy production [14]. Therefore, it aids to restore memory, improve mental clarity, alertness and concentration and improving athletic performance.

Procaine 0.2% or Procainium Hydrogen Carbonate

A compound known specially for its anti-oxidant effects and cells detoxification. Claims to be the ultimate anti-ageing infusion formula that restores and balances the body's nutrients. In effect, it provide a unique well-being support and vitality.

Performance Booster Plus

According to Intravita's international nutrient formula, this is a very comprehensive anti-ageing IV all in-one multi-nutrient formula that contains a high concentration of folic acid which enhances "the feel good factor". Studies show that folic acid deficiency leads to depression and poor response to antidepressant medication. In addition, this formula also contains performance boosting cocktail packed with energy boosting B vitamins and amino acids. Amino acids enhance the 'feel good factor' and boost a positive self image. Lastly, it also boosts athletic performance, overall vitality booster for general health and well-being maintenance.
And just like that, I was hooked up
I was privileged to have Dr.Jacques Otto (IntraVita Medical Director) carry out my personally tailored IVNT procedure for me to experience. Thorough steps were followed in accordance with the company's protocols and procedures. This included medical health questionnaire, signing of the consent form, and pre and post-recording of vital signs proceeded to cannulate and administer the NADH infusion followed by a performance booster plus.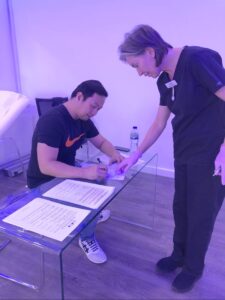 Before the procedure starts, I was made comfortable lying on the treatment bed and was taken through each step as it came. A suitable vein was identified for the introduction of the cannula using the aseptic technique. Aseptic techniques are used in most medical practices and procedures when a healthcare professional needs to put something into your body [15]. This helps protect patients from the introduction of germs, bacteria, and microorganisms that go directly into the bloodstream [15].
As the fluids started to travel up into my arm I felt a strange sensation
I remember after about 10–15 minutes after the NADH (first) infusion formula began, I started to feel a strange sensation on my both upper and lower limbs. The easiest way to describe is like cold water running through my hands and feet. In addition, a sensation of slight lightheadedness without any associated pain or discomfort (a weird but nice sensation), fortunately, I was warned of this beforehand and reassured that this is a common physiological reaction, particularly for this formula.
It is believed that once the compound enters the body; the receiving cells start opening up to accommodate any nutrient formula that passes through the system. Therefore, it is recommended to take the NADH as the initial IVNT infusion for it to enhance the full potential benefit of any succeeding infusion formula.
The second infusion was the Procaine. So by this point, I had received two powerful IVNT's which between them provide energy production and an anti-oxidant effect – so you can only imagine how I felt after the addition of the third and final IV 'The Performance Booster '.
What a day
As an A&E nurse, I cannulate many times a day as part of my role, and not often do I become the patient! Being on the receiving end was an absolute experience and pleasure. I would say that I have a very high pain threshold no surprise it was not painful (perhaps others might find their pain tolerance is slightly lower). I was made to feel very comfortable and was talked through each step of the process it came.
To be honest, I wasn't really sure what to expect, but that evening I felt a sense of calm and energy at the same time (hard to explain). But the next day I felt an overwhelming sense of wellness (again difficult to explain). I really did feel different (in a subtle way) and this continued for days afterwards. The great news is I didn't notice any adverse reactions (not that I was expecting to).
What's next
We are looking forward to bringing the NADH option to Cryojuvenate very soon, if you would like to find out more about the range of IV Drips currently available click here
If you are not sure which IV is for you, take a 3-minute read of our guide here
Submitted by
John Pefanio (RGN) The author(s) received no financial support for the research, authorship, and/or publication of this article.
References
[1] https://www.who.int/news-room/fact-sheets/detail/malnutrition
[2] https://www.cdc.gov/nutrition/micronutrient-malnutrition/index.html
[3] https://www.who.int/news-room/fact-sheets/detail/malnutrition
[4] A Astrup and S Bugel Faculty of Life Sciences, Department of Human Nutrition, University of Copenhagen, Frederiksberg, Denmark. (Editorial) Micronutrient deficiency in the etiology of obesity. International Journal of Obesity (2010) 34, 947–948; doi:10.1038/ijo.2010.81
[5] https://www.fao.org/3/x0245e/x0245e01.htm
[6] https://www.bapen.org.uk/pdfs/economic-report-short.pdf
[7] https://www.hsph.harvard.edu/nutritionsource/nutrition-and-immunity/
[8] https://www.healthline.com/nutrition/nutritional-needs-and-aging#The-Bottom-Line
[9] Alan R Gaby, Intravenous Nutrient Therapy: Myers' Cocktail (Review) Alternative Medicine Review. Vol. 7, No. 5 (2002)
[10] Otto MJ, Gammell S, Introducing IVNT to your clinic. Aesthetics Vol 3 Issue 6. May 2016, pp. 33-35
[11] Ather Ali, Valentine Yanchou Nijke, Veronika Northrup, et al. Intravenous Micronutrient Therapy (Myers' Cocktail) for Fibromyalgia: A Placebo-Controlled Pilot Study. THE JOURNAL OF ALTERNATIVE AND COMPLEMENTARY MEDICINE. Vol. 15, No. 3, 2009 pp. 247 – 257
[12] https://www.verywellhealth.com/nadh-for-fibromyalgia-chronic-fatigue-syndrome-715795
[13] https://www.webmd.com/vitamins/ai/ingredientmono-1016/nad
[14] https://www.webmd.com/a-to-z-guides/what-to-know-about-aseptic-technique